Le Art Mystique
pagannini lll
5 discoveries in here! how many spice girls?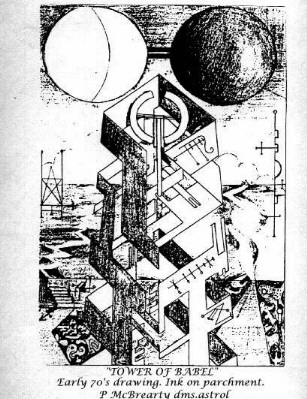 "TOWER OF BABEL" ink and pencil on parchment. early 1970's
"This drawing contains a number of magical symbols and was in a sense a 'Magic Spell'.
The symbols are actually correctly drawn and copied from an ancient text which I had borrowed at the time. For those interested, there is NO conection with 'Black Magic' or anything even remotely similar. The Magical Symbols used were stemmed from sources of Biblical origin such as those used by "King Solomon" and "Moses".
The 'obvious' interpretation that has often been placed upon this drawing is that it is a 'PHALLIC' expression or 'Symbol' -- Although this may be partly true it is a very narrow interpretation, fuelled by self-projection which gains or loses momentum in varying degrees -- being dependent upon the condition of the viewer's subconscious.
However, hidden somewhere within is a "SPICE GIRL" for you to find! but you must find the CORRECT clickable area! -- there are a few hidden items but only one true "SPICE-GIRL" -- have fun....