Le Art Mystique
pagannini XXlX
4 super-duper thinies to get into here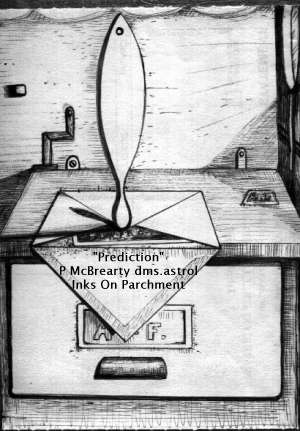 "PREDICTION" pen and pencil on parchment. C1986
P McBrearty dms.astrol
This drawing is named "Prediction", because I had no real idea of why or what I was drawing during the time I was working on it. The following day however, I received unexpectedly in the post, a letter from a very good friend whom I hadn't seen or heard from for approximately 10 years. His letter contained a picture like the envelope in the drawing, and the letter contained details of a television show he had just made about his art work, and the connection in his work with ships and submarines.
You will notice in the above drawing the light coming in through a round window on the right which looks like a 'Porthole' on a ship! My friend's name is Tom McKendrick, -- a very fine artist and friend who also was the drummer in one of the first bands I played in as a teenager. We were called the "ALLSORTS" because of the varied and wierd music we created. I think we were the very first 'Punk Rock' group long before the phrase was coined.
Some times our singer and bass player would fight on stage and once, the bass player stubbed a cigarette out in the singers face in the middle of a song! Sometimes, his false front teeth would fly from his mouth while singing wildly, and occassionally some of us would be physically sick on stage. I remember our bass player, "Stuart Morrison" threatening members of the audience by making signs to signify that he was going to cut someones throat after he had finished playing! Another night I saw one of our members urinating behind one of the speaker cabinets in the middle of our session on stage!
Of course, this was all years before the "Sex Pistols" had even been thought of!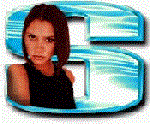 "ADASTRA SELLS OUT !?!?! (WHAT?!!?)
EACH ARTWORK CONTAINS A HIDDEN 'CLICK-AND-PICK' SPICEGIRL! GO'GEREM FLOYD !
Visitations, including 'Extraterrestrial'
'PROBES'