The "SCIENCE" ~ 'Internet International'.
'ARTWORX'
---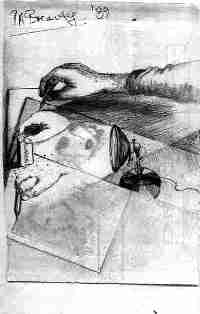 THE MILLENNIUM ECLIPSE NEWS!
GOTO--Age Of Aquarius (NEW)
ARTWORKS, Art, photographs and drawings. Artworks, Art, photographs and drawings are works of art. Art is photographs and drawings which are artworks and Art. Photographs and drawings include artworks, and works of Art, including photographs and drawings. ARTWORKS, Art, photographs and drawings are among the ARTWORKS, and Art of photographs and drawings. These artworks, art, photographs and drawings etc are original ARTWORKS, Art, and drawings and also photographs.

---
The following worx of art have been inspired by the compelling 'non-logic' of synthesizing ideas from within the core-fabrication area of the mind's multi-level dimensions, which include the probing of 'Time-Space' sectors which are outside of the conceptual realization of the artist.
Therefore, much of the work is believed to have its origins outside of the generally accepted and practiced mode of time-mapping, and are termed 'whirligogs' by the author:- "Whirligogs of the mind, pictures and images, words and phrases, which rise and fall intermitently from somewhere within the mind's catalogues and files.
They may contain encrypted meanings, they may not!: you might find them funny, creative, disturbing, or possibly just 'Stupid'! But whatever, the thought is, that it may take some time to find the humour behind the innane shadows they cast.
The television and filmworld are full of diverse portayals and quasi-intellectualisms of the psyche and body-art mentality, as is the world of graphic and abstract mediums. But the occultations of factual and hypothetical universal structures and models of existence formed within the stories within these whirligogs, are witheld within the parameters of unconscious, or, collective unconscious thought, and are therefore encoded within 'latticed' layers of multi-faciled, three-dimensional tapestries, woven and interwoven within the perplexing levels of the multi-dimensional universe, and act in some unknown manner upon acutely interporous beings of light and spirit.
'the Science'
April 1988
---
MY OWN ANIMATED CREATIONS!